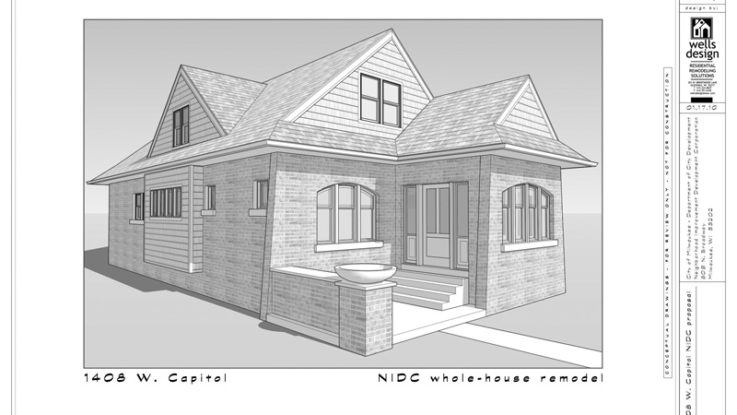 Peter Wells is a Glendale, Wisconsin-based independent remodelling designer serving Milwaukee and the southeastern part of the state. Working through builders or direct with homeowners, Wells creates award-winning residential design solutions for kitchens, bathrooms, lower levels and additions. He belongs to the local NARI chapter & his new company is in its fourth year of production.
In the remodeling business, every new project brings its own unique design challenge. Solutions often have to be submitted with in very short window of time. For one project, the Milwaukee Neighborhood Improvement Development Corporation (NIDC) sent out an RFP to area contractors for a whole-house remodel on a foreclosed property on the city's north side.
The deadline was a very tight two-and-a-half weeks from the issuing of the RFP to the submission of proposals. My time frame was made even shorter as it took several days for us to determine the feasibility of the project after meeting with the director of the program at the contractors' open house.
Using SketchUp Pro provided us a way to meet the short deadlines and easily communicate our design ideas in detail in order to fulfil RFP requirements.
When we decided to give the project a go, the site was measured on a Tuesday. A rough 'as-built' model was created and preliminary plans were reviewed with my builder on Friday (three days later). By the following Tuesday, the "proposed" model was completed, and the next day the LayOut documentation shown below was finished—two days before deadline!
Read more about this project here..